Zone 2 Linear LED
The ExLED is a GRP linear LED fully certified and available Ex-stock.
Designed as a replacement for traditional 36W and 58W fluorescent luminaires, the ExLED is a superior quality LED linear for use in Zone 2 & 22 hazardous areas.
The toughened GRP enclosure has been developed to last. This philosophy is in line with the extended lifetime of its LED light source. Also unique to LED both 36W and 58W equivalent outputs can be housed within the same 4ft (1250mm) body.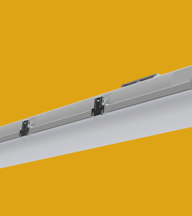 You may also be interested in...