Fire Rated
Abtech stainless steel (SX) and GRP (BPG) terminal enclosures provide exceptional levels of fire resistance. These can be used to ensure that safety critical systems such as emergency lighting or fire safety controls maintain their electrical integrity during prelonged exposure to extreme high temperature events.
The highlighted Abtech enclosure ranges have been tested in accordance with BS 8434-2:2003+A2:2009 to temperatures of over 930°C. These tests exceed the requirements of BS EN 50200 / PH-120 for resistance to fire with mechanical shock.
Abtech fire-rated enclosure and egress lighting solutions being selected on a number of key projects including the Elizabeth line (Crossrail), UK Channel and Tyne tunnels.
To simplify basic installation, we have created the BPGF, this is a pre-assembled enclosure with everything you need to complete a fire-rated electrical connection. The enclosure is available in 120mm x 120mm or 160mm x 160mm and is rated IP66.
This pre-assembled unit is supplied complete with either an eight or twelve-way ceramic feed through terminal block, four M20 entries and two stainless steel plugs.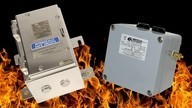 Note: All fire-rated applications need to consider the complete electrical circuit and its overall integrity. Therefore appropriately rated flame resistant cable and glands must also be used. In addition, all internal components such as terminals and fuse holders must be able to withstand the extreme temperatures required.
The fire resistance tests we have conducted are only applicable when a ceramic terminal or pillar is used for cable connection. The fitting of any other equipment is not covered within the scope of these tests and may require additional testing.
Abtech is happy to assist you in this process.