Fire Resistant GRP Enclosures - BPGF
Abtech's BPGF is a fire-rated GRP junction box designed for use on safety critical circuits or those carrying an emergency power supply.
The BPGF will maintain insulation integrity for 120 minutes during direct exposure to fire, ensuring that electrical devices such as fire suppression systems, smoke extractors, alarms and emergency lighting remain operational during exposure to extreme heat and flames.
This pre-assembled unit has been configured for maximum flexibility and is ready to install.
- Eight or twelve-way ceramic feed-through terminal block
- Four M20 entries and two stainless steel plugs
- Available in 120mm x 120mm or 160mm x 160mm
- IP66 Ingress Protection
The BPGF provides insulation integrity PH120 in accordance with BS EN 50200 and BS 8434-2.
Abtech selects the most extreme fire resistance standards to test our enclosures. To understand the various differences between standard and the reasons for selection, please take a look at this explanation: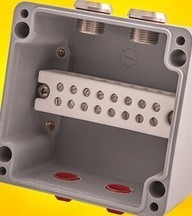 NEED TO FIND OUT MORE ABOUT THIS PRODUCT?