Maximum IP Protection
Abtech provides a range of enclosures suitable for temporary submersion and varying depths and durations. These are used not only as safety-critical terminal enclosures but also to house instrumentation and measurement equipment or motors and variable speed drives.
Our submersible enclosures are characterised by high levels of mechanical strength; required to withstand the pressures exerted at depth underwater, and excellent corrosion resistance to counter the effects of exposure to contaminated or salty water.
All Abtech submersible enclosures are manufactured from marine-grade 316L (1.404) Stainless steel and use all stainless steel fixings.
At shallower depths, typically down to about 7 to 10 metres, reinforced SX enclosures with an alternate gasket seal and threaded entry bosses are typically used. These provide the strength and environmental protection required whilst remaining relatively lightweight and adaptable.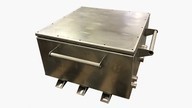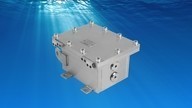 As the depth and duration increases, so does the corresponding hydrostatic pressure at around 14.5 psi per 10 metres. This creates a need for a much thicker walled enclosure to withstand the more extreme forces. Although application dependent, at depths of 10 metres or more a Nautilus enclosure is normally specified.
Developed to maintain critical electrical connections within locations prone to submersion at depth for extended periods. Fabricated in 12mm thick stainless steel, it comes as standard with a hinged cover and lifting eyes for easy installation and maintenance. The Nautilus has been tested for IP68 at 100 metres for five days to EN60529.
Downloads
NEED TO FIND OUT MORE ABOUT THIS PRODUCT?
You may also be interested in...